A cooperation study by Kienbaum and ada
In cooperation with ada, we collected data for our annual Kienbaum study on the topic of "Leadership in the age of technologically assisted decision-making". The aim was to find out how relevant technologies such as artificial intelligence or quantum computing are for companies, how they alter decision-making in organizations, and what implications they have for people, organizations, and society. The study is based on a mixed-methods approach and was scientifically accompanied by the Kienbaum Institute @ ISM. To begin with, qualitative interviews were conducted, based on the results of which an extensive, quantitative survey was conducted.
The survey is completed; now we are looking forward to sharing the most exciting findings and to the exchange with you. Request the study report for free now.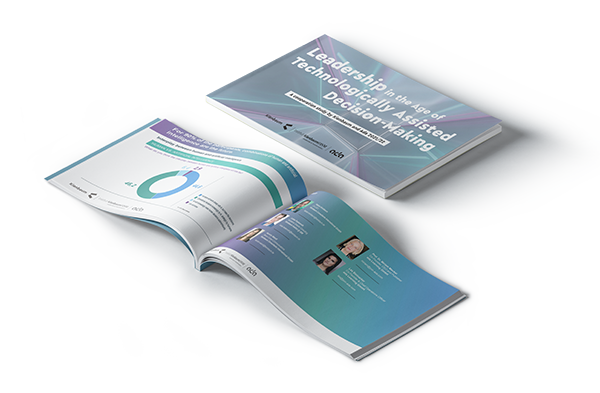 A cooperation study* by Kienbaum and ada

* The survey was conducted with 515 participants.
Get study publication now
"Do you think an AI system should make decisions autonomously?"
Fabian Kienbaum, Miriam Meckel and Léa Steinacker at Ada Lovelace Festival 2021 -© ada Learning GmbH
"How do HI and AI interplay?"
Fabian Kienbaum, Miriam Meckel and Léa Steinacker at Ada Lovelace Festival 2021 -© ada Learning GmbH
3 QUESTIONS TO… OLIVIER SIBONY
On decision-making in HR – in conversation with Olivier Sibony
25.01.2022 - For our joint study on AI, "Leadership in the Age of Technologically Assisted Decision-Making", Prof. Dr. Miriam Meckel, Dr. Léa Steinacker, Fabian Kienbaum and Lukas M. Fastenroth interviewed several experts on Artificial Intelligence. One of them is Prof. Dr. Olivier Sibony, to whom we talked about morals and decisions. He provided interesting examples concerning the future nature of decision-making in the context of HR, which we would like to share with you.
Excerpt from study results
of executives do not see their position threatened by automation through AI.
Is your organization already using AI systems?
The majority of respondents (around 68 percent) state that their employer already uses technologically assisted decision-making systems. For 32 percent, the use is in the planning stage. Find out more in the complete study.