Diversity as an economic advantage
Why doing business in Singapore is special
With one of the highest GDPs per capita in the world as well as excellent economic and diplomatic ties beyond its borders, Singapore is Southeast Asia's economic powerhouse and a beacon of social and political stability. As one third of its population are expatriates or foreign workers, it embodies a unique melting pot that is home to both tempor…

A blog post of 29. January 2020


With one of the highest GDPs per capita in the world as well as excellent economic and diplomatic ties beyond its borders, Singapore is Southeast Asia's economic powerhouse and a beacon of social and political stability. As one third of its population are expatriates or foreign workers, it embodies a unique melting pot that is home to both temporary and permanent residents and therefore embraces diverse ethnicities, cultures and religions. However, this diversity can also lead to challenges for foreign organizations when they want to establish a solid business model that fits all of these different cultural aspects without undermining their individual company purpose.
Political and economic framework
Singapore's economy is mostly built around trade, financial/business services and manufacturing
China constitutes a big influence on Singapore's economy
Today, Singapore is considered as the undisputed gateway to an entire region and thus the ideal hub for businesses from all around the world that want to install their Southeast Asian headquarters in the city state. As Singaporeans cannot rely on natural resources, they had to build their economy around trade, financial/business services and manufacturing (for more information click here). The Singaporean government is also showing efforts in adopting innovative digital solutions and has just been ranked the world's second most digitally-competitive country (IMD World Digital Competitiveness Ranking). Therefore, the local Monetary Authority is showing ambitious attempts to digitize its financial services industry and has vowed to invest USD160m into Fintech companies by the end of 2020.
Thanks to Singapore's location at one of the most important international shipping routes, its harbor is the world's second busiest container port after Shanghai. Consequently, even the slightest slowdown in global trade is felt immediately. For this reason, China plays an important role in Singapore's economy, as it is its largest trade partner and also a massive investor in all neighboring Asian countries due to its Belt and Road Initiative (BRI). The ties between the Asian economies are very tight and therefore the Sino-American "tit-for-tat" tariff escalation policy is having a strong influence on Singapore's economy. Without a change of heart (and mind) in Washington and/or Beijing, the consequence would be a considerable slow down the region's growth trajectory.
Chances and challenges
Entrepreneurial-friendly rules and regulations
Steep growth potential in Southeast Asia (where Singapore is the gateway) as countries increase their GDP and thus, their disposable income, which leads to incremental consumption per capita – amplified by advantageous demographic developments
However, significant differences in culture and mindset exist that can complicate the process of finding the right business model
Rising local competition with qualitative innovations that compete on a global scale
Extremely scarce talent market in Southeast Asia due to lack of education and experience. The small group of top educated individuals (usually with academic backgrounds from Europe or the US) are compensated reasonably high
Within this international, agile and fast-moving environment, Singapore is renowned for its business-promoting policies. There are, for example, several major, government-backed initiatives to ease funding for start-ups and SME. Furthermore, Singapore's government also actively supports a healthy venture capital scene. Also on the regulatory side, Singapore sets an entrepreneurial-friendly tone – setting up a business, for example, is very straightforward and can be done within days, sometimes within hours.
On the other hand, doing business in Asia might not be what companies from Europe or the US are used to due to existing differences in culture and mindset. It is crucial to identify the right and qualified individuals who master the challenges of a fast-paced, ever-changing environment embedded in various cultures and guided by little regulation. Therefore, consultants in the field of Executive Search and Leadership Advisory face numerous challenges when operating in the Singaporean market and need to combine all of their existing knowledge and awareness when assisting their clients. From our experience, we can say that hiring a highly-diverse team coming from different nationalities and backgrounds can form a valid approach for success stories in Singapore and beyond.
Specifics of the Singaporean labor market
The employment situation is stable and the average income is similar to Germany
Singapore's employment market is quite liberal and based on the concept of "tripartism"
Compared to other Southeast Asian countries, Singapore's employment situation is quite stable. The average income is similar to Germany and therefore significantly higher compared to all other Southeast Asian countries. Compared to OECD nations, Singapore is currently placed on the 8th position when it comes to its total employment rate (Germany is 7th) and outperforms in the field of of full-time employment by placing itself at the 4th spot (Germany is 23rd). However, taking Germany as a comparison, the inequality in pay between high- and low-qualified workers is much more significant in the city state.
A real differentiator, however, is the liberty of Singapore's employment market. It is operating on a quite unique approach, based on the concept of "tripartism". This is a partnership between employers, trade unions and the Singaporean government which aims at promoting the adoption of fair and responsible employment practices. Formulated in several rules and regulations, it forms the so-called "Employment Act". Besides some mandatory laws, the vast majority of Singaporean employment regulations are subject to the individual employment contract between employer and employee. Therefore, the ease of hiring and personnel retrenchment is quite high and the negotiation of contractual terms, like working hours or granted holidays, is fairly flexible and protected only by bare minimum conditions.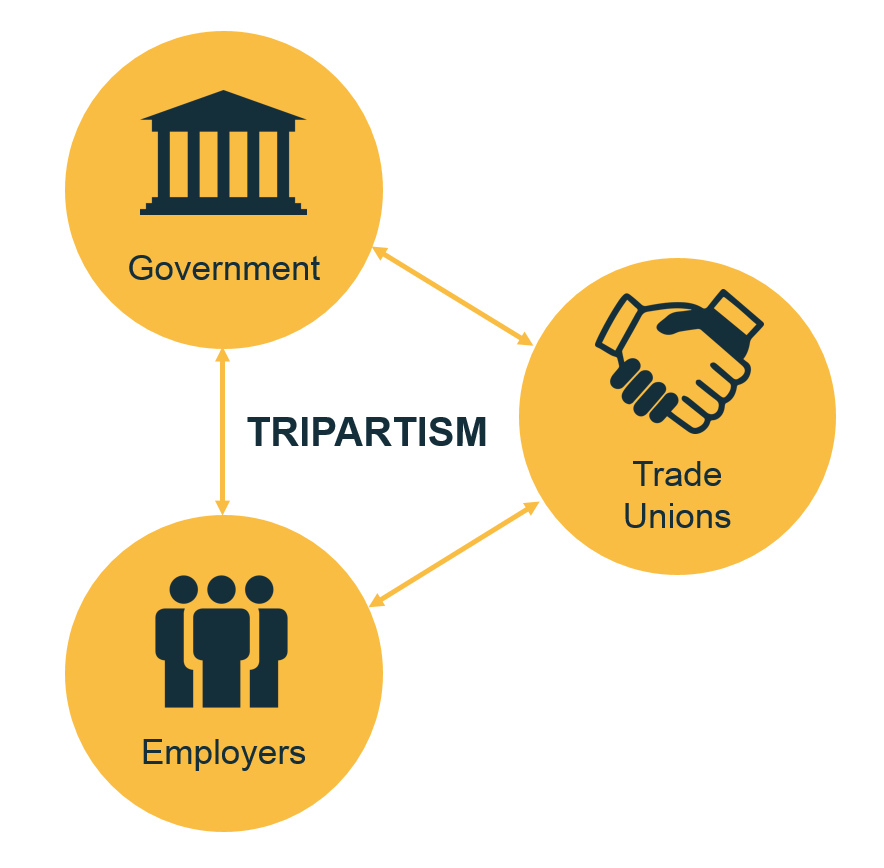 ---
Kienbaum – Your partner in Singapore
After more than 20 years of on-the-ground experience in Singapore and Southeast Asia, Kienbaum knows all about company's local needs and looks back at a highly-successful track record of finding the right leaders to serve your company's requirements in such a diverse and dynamic environment. Our aim is to combine business knowledge with both cultural expertise and human factors in order to maximize organizational excellence in all matters involving people and executives. For further information, please contact David Liendgens, Country Manager Singapore, David.Liendgens@kienbaum.com.sg.
---